Welcome to the last day of the

MEET MY MACHINE

blog hop!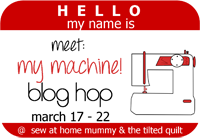 This blog hop is a great way to get a peek at what other stitchers are sewing with and read about what they love (or don't love) about their machines. This is my sewing machine story, and you can find links to visit all the other blogs in the hop right here.
AND THERE ARE PRIZES!!! Scroll all the way down to find how to enter a giveaway for a prize of goodies from me AND BERNINA!
Great, let's start at the beginning!
MY BERNINA STORY
So once upon a time when I was studying for my Fine Arts degree (a long, long time ago boys and girls), I was experimenting with sending all kinds of materials through my sewing machine, from delicate papers and lightweight plastics to heavy canvas and thick gauge vinyls. My poor little sewing machine (brand name being withheld to protect the innocent) could not keep up - half the time it was chewing up the delicate stuff, and the other half of the time it was choking on thicker materials and puking up giant thread-balls. Sometimes when I sewed for hours at a time the machine would get hot and just stop working! That's when I turned to BERNINA.
My first ever BERNINA, the 1080. The "sexy lady" is not original.
What this BERNINA allowed me to do was to focus completely on my creativity; it could sew through almost anything I threw at it without skipping a beat or a perfectly placed stitch. That's Swiss engineering! And you know what? After stitching up my artwork with the little 1080, I was able to graduate with my Fiber Arts degree and win a major award for my work!

On the front page of the SIU Egyptian in 1997, I look like I'm 15 years old!
*A little caveat - I also collect and sew with vintage machines, and I own something like 20ish sewing machines at the moment. You can see some of my vintage collection by clicking on any of the links in the "Sewing Machine Collection" section over in the sidebar. Although I do enjoy mixing it up and sewing vintage time to time, if I'm sewing something that counts or if I'm quilting, I always sew with my BERNINA.
I have sewn with several BERNINA machines since first purchasing my1080 (like the 440QE, and 350PE), and I am currently sewing with a 580.
I call this machine "The BOSS". No, not in a Springsteen kind of way, but in a kicking butt and taking names kid of way.
I've sewn with this machine for about a year now - and right away I was in love with how incredibly bright the on board sewing light is in this baby. Other favorite features are the high-res touchscreen, where everything you ever wanted to know and more is displayed:
Go ahead, touch me!
and the conveniently located thread cutter (the little scissors right next to the start/stop button and reverse button).
I'll cut you!
It sews beautifully, and since I started quilting I've been using this baby to do lots of quilting tasks from piecing to free-motion stitching and actual quilting. So, yes, my favorite accessories at the moment are all quilting related - the 1/4" Patchwork foot # 37, the Walking Foot #50, and the BERNINA Stitch Regulator.
Oh, BSR, you are so DREAMY!
What I love the most about the 580 is what I loved about my very first BERNINA; it is incredibly reliable, giving me the perfect results I expect no matter what I'm stitching. So, I can concentrate on my creativity instead of worrying about if my machine will keep up with me!
You may ask, if I was granted a magic wish and could have any one sewing machine in the world, what would it be? Probably the BERNINA 750 QE. Have you SEEN the hugemongus bobbin on the new 7 Series machines? It is AWESOME! I had a chance to sew on a 750 QE, and it is a truly amazing machine - incredibly fast and quiet. Yes, it is definitely my dream machine!
Now that you know about my machine, want to see where I sew? Here's a tour of my funky basement sewing space:
This space is definitely not perfect, there are lots of doors, posts, and open spaces to work around. The one long, uninterrupted wall is home to my mangle iron, cutting/storage table, and bookshelves.

I am big on books for reference, and since I started quilting a few years ago my quilting book collection has been growing. I don't quite have enough book space in this room because of the lack of solid wall space.
My main sewing desk is at the back corner of the room, this is where I do most of my stitching on the BERNINA 580.
A view in the other direction, two other vintage machines set up to sew, my ironing board set up in front of the industrial machine at the moment.
A small table and chairs at the other end of the room provide work space, but sometimes gets filled up pretty quickly with junk as I'm working.
So naturally, if I could change anything about the space it would be to have a bit more of everything. A bit more space, definitely more wall area for storage, and more windows for natural lighting.
But at least I do have a dedicated space to sew in, and for that I'm grateful!
Now, are you ready for a

GIVEAWAY

! Yes!
The prize is a goody bag from both BERNINA and me, and includes some awesome BERNINA branded stuff for your sewing room (acrylic cup, mini-ruler, neoprene laptop sleeve, and pretty fabric roll) plus a Moda boho 2" charm pack, a Free Spirit Essentials 6" charm pack, a pack of vintage craft buttons, your very own Miss Sews-it-all "Stitch or Die" needlebook, and felt tag. All of these goodies will arrive in a super sturdy white and red BERNINA canvas bag!
CONTEST IS NOW CLOSED! THANKS TO ALL WHO ENTERED.
Just leave a comment right here on this blog post - and tell me what kind of machine YOU Sew with! This post will be left open for comments through the weekend, so you have until Sunday, March 24th (12:00 PM midnight Chicago time) to enter. Winner will be chosen at random from comments, and I will post the winner right here on Monday morning.
Only one comment per person, please! Additional comments by the same user will be deleted. So sorry, but I cannot ship outside of the US, so this contest is only open to residents of the United States of America. Please make sure you are NOT commenting as an anonymous user so that I can contact you if you are the winner.